Charlesworth Gardens | Landscape Design & Garden Maintenance | Javea Online 24

Charlesworth Gardens is a leading landscape design, construction and maintenance company on the Costa Blanca.
They can turn dreams into reality, whether you have a small garden you want to make easier to maintain, or you want a large space with pergolas, water features, garden lighting, artificial or replica grass and irrigation.
---
The Business


With a BSc in design and an education in architecture, owner Lee understands not only how to design but how to bring his designs to life. After leaving education Lee gained much experience working for award winning companies. Lee has also designed and constructed gardens for a Chelsea Flower Show multiple Gold medal winning contractor. This gave Lee the chance to help create two gardens at the prestigious show before relocating to Spain.



They offer clients a high quality service from conception to completion, working closely with their clients at every stage.

Their service is design lead, with you the client in mind. They allow their clients to dream of how they would love their garden to be

.
We then set out to design a space that reflects the client as an individual and fits all of their dreams and needs

.


You employ a garden designer to translate what you have in mind in to a space that is designed to maximize your gardens potential and to turn any unique ideas you may have in to a feasible reality. Charlesworth Gardens make it happen and bring the dream to life

.
They can design and create any garden for any budget and any style, whether is be small and tidy, or something unique and a little crazy, no problem

!
Services

Charlesworth Gardens understand not only design but also construction, architecture, mechanical sciences, water features and horticulture. That is what sets them apart. They can not only design it but this combined knowledge means they can create it. They have respect for the surrounding environment and would always design and use materials with that in mind.

*Design & Planning *
Landscaping *
Artificial Grass *
Garden Structures

*
Summer Kitchens & Pergolas *
Ponds & Decks *
Water Features *
Planting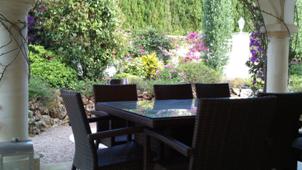 Plants, Trees and Shrubs
Now in association with their small but growing garden centre Flores you can now purchase from small bedding plants to mature trees. If you can't see what you are looking for book an appointment with Charlesworth Gardens and they will be able to carefully select and order based on your specific needs. They are finding that more and more people are coming to Flores to place orders rather than hunt around. You can be assured that they will search Spain for the plants, shrubs or trees you want at competitive prices.


Irrigation Systems

Irrigation is an important part of Mediterranean gardening. When timed and installed properly a well fitted irrigation system will water when you want the quantity you want directly to the areas which need watering. By slowly drip releasing water you prevent wastage and maximise the effect. An irrigation system has to be thought out and carefully planned before installation. An irrigation system also allows you to relax if you spend time away from your Spanish home.

Replica Grass
Replica grass is the sensible choice when gardening in Spain. The initial set up cost soon pays off as it requires no watering, feeding or mowing.
It looks green and well all year round and is ideal for children to play and is easily cleaned if you have pets.

They have over 12 varieties of high quality, Spanish made Replica Grasses at competitive prices.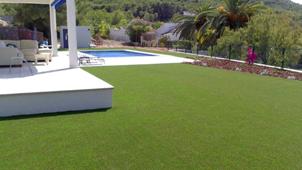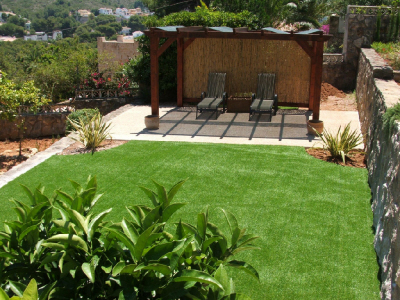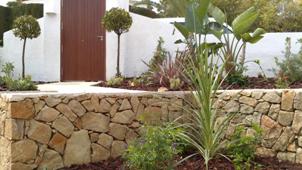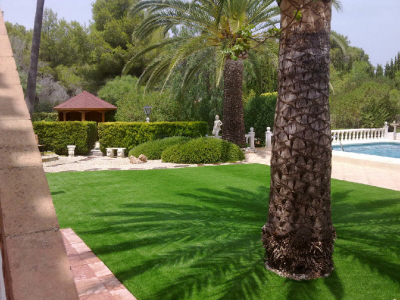 Maintenance
Charlesworth Gardens organise, one off garden clearence and maintenance for, Private Gardens, Communal Gardens and Commercial Garden Areas.

Before maintaining a garden we need to meet with the client and look over the whole garden and then talk about the level of maintenance required.