Cemas is a scuba diving centre in Calpe with scuba diving classes and excursions for all levels.

Thay also specialise in rock climbing, abseiling, water skiing, kayaking, snorkelling, caving, boat trips and fishing trips from their centre in Calpe, Costa Blanca, Spain.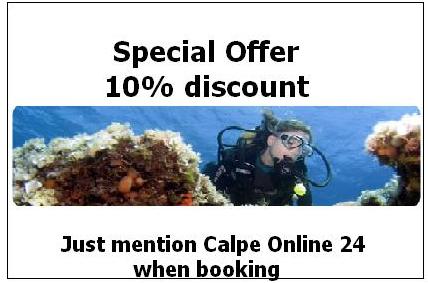 ---
The Business


Cemas is a licenced professional dive centre in Calpe run to the highest standards. They offer introductory courses, specialized training, professional diving courses and more....

The dive centre is run by professionals and offer certified courses which are internationally recognised.

In addition to the various diving courses and excursions, Cemas is now proud to offer a wide range of nautical activities and adventure sports, such as climbing, caving, kayaking, fishing, trekking and lots more besides.
---
Scuba Diving



Discover Scuba Diving

This first experience with a dive in the sea accompanied by a qualified instructor, will convince you to continue practicing this sensational recreational activity.

Unlike sports activities focused on physical training and competition, the purpose of scuba diving is just the opposite is a relaxing activity and is done with a partner to share the exciting sensations experienced during the short sojourn in the world underwater.




With a short theoretical and practical classes on the surface the monitor will provide information and training required for you to enjoy this unforgettable experience.




All equipment is provided by the diving school.





Diving Courses & Certificates


Cemas offers different diving courses, which give the diver an internationally recognised certificate (CMAS), according to the level each diver has completed. For example a beginner diver would have 1 star, whereas an expert would have 4 stars. Courses are also available for PADI, SSI and ACUC.

For those wishing to become professional divers, courses are available in the following fields: commercial, recreational or lifesaving.

All diving courses have a common element - they take place in a safe, relaxed and educational atmosphere that will encourage you to continue diving in the future.

There are a number of interesting dive sites close to Calpe, including underwater caves, rock formations and wrecks.
---
OTHER ACTIVITIES


Caving


Caving is a science whose object is the exploration and study of the underground cavities.

Caving offers a wealth of attractions, both fun and scientific at various levels, making it a very complete activity.




Their Club of Speleology, Climbing and underwater activities has developed a unique excursion to visit a cave with access from the sea.

Departure is from the port of Calpe, equipped with bathing suits in summer or winter wetsuit.

At the cave the boat is anchored and you swim to enter the cave, helped by a cord and a monitor. Once inside the cave you can explore by walking around, slithering through gaps and crawling - but not everything is mandatory.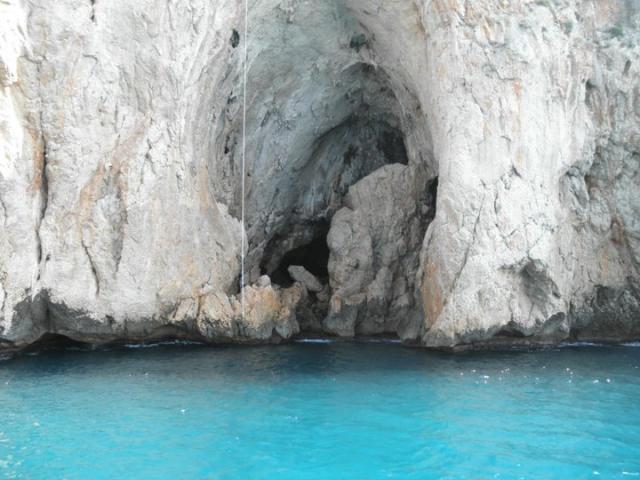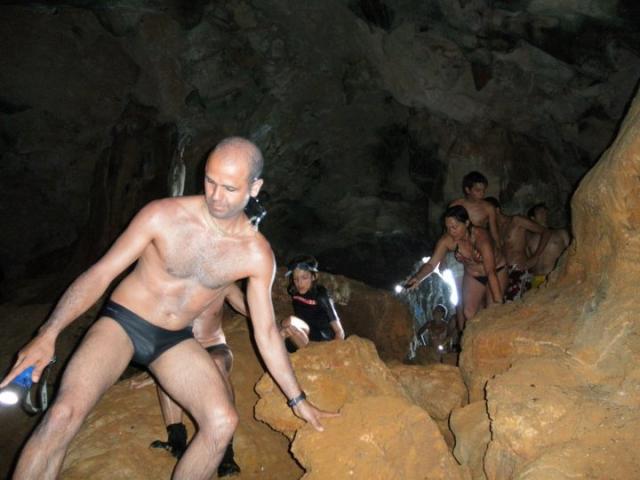 ---
Water skiing


Water skiing is a sport that combines surfing and skiing.

This sport where high speeds are reached, requires good reflexes and balance. Participants ski on the water clinging to a rope pulled by a big speed boat performing spectacular manoeuvers on one or two skis. If you have never tried this before, you will be shown how to do it by an instructor.
---
Abseiling, or rappelling, is a rope descent system used on vertical surfaces. It is used in places where the fall is otherwise difficult or unsafe.

I

n addition to good equpment a

bseiling

requires

knowledge of the proper technique and a rope team - all of which is provided by the experts at Cemas.
---
Boat Excursions

This is open to all members of the public. They have two types of vessels for this purpose, two pneumatic semi-rigid open boats (8.50mts and 7.50mts) and two fiber boats with hard cab (10mt length and a 9mt).

The typical tour is around the Peñon de Ifach with a stop midway for those who wish to take a swim with or without goggles.




They also go to see the imposing walls of Toix Cape, the islands of the natural park of Benidorm and Cape San Antonio.
---
Donuts


Donuts is a fun activity that involves you being pulled along across the water at high speeds whilst clinging onto a handle.

For 2 or 3 people max.
---
Climbing


Climbing, or mountaineering, is an activity that involves making ascents on steep walls and cliffs using the right technique and equipment.

Open to everyone over 16 years old, you can learn basic climbing techniques and to manage a small team.
---
Fishing
It is an organized recreational activity to enjoy fishing from a boat.
The Maritime Centre will give you the information and equipment you'll need for this particular activity, but not the bait. The center will recommend a suitable bait for fishing on any given day.
Catches can be taken home or given them to your colleagues or the owner of the vessel.
Among the various types of fishing include the chamberlain, trolling and bottom fishing with a rod.
---
Snorkelling

This activity is open to all the public and can be done from the shore or from a boat.

In both cases you swim close to the rocks where it is possible to see more submarine life without having to scuba dive.

In addition to the snorkel and flippers, you are provided with a flotation aid to help you keep afloat for longer, without tiring.
---

Please visit the webpage, www.cemas.es, or call them on 695 162 006 for details of latest offers and prices.