Bakerella Cakes is a cake maker on the Costa Blanca, Spain who designs celebration cakes and wedding cakes in Javea, Moraira, Calpe, Spain. Whether you are looking for a birthday cake, a beautiful wedding cake for your Costa Blanca wedding, a fun novelty cake, speciality cake, anniversary cake or selection of cup cakes, all are all designed and are made to order.
Bakerella Cakes offers a wide variety of delicious home-made celebration cakes for all occasions, including Birthday, Wedding cakes and Cupcakes in many flavours such as Strawberry and Cream, Carrot minis, Salted Caramel & Tropical Coconut.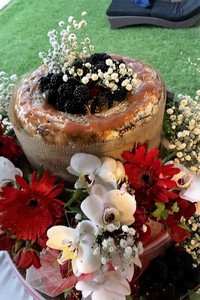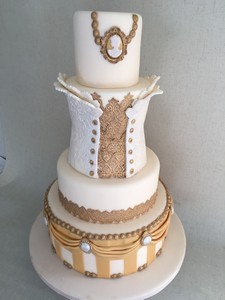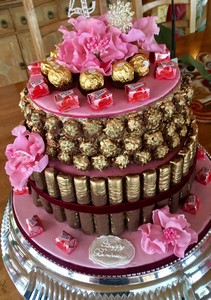 Bakerella covers the northern Costa Blanca area, including Javea, Denia, Calpe, Moraira, Altea, Albir, Benidorm, Orba and Jalon.
Testimonials
"Bakerella made a cake for my 60th party, it was carrot cake iced in blue and white. The cake was delicious, moist and tasty and there was enough for a small slice for 40+ people."

"It was attractively iced and it was obvious just how much work had gone into the decoration as there was edible lace and other little delights around the cake. Thanks for the effort."
Paul and Marcelle - Monte Pego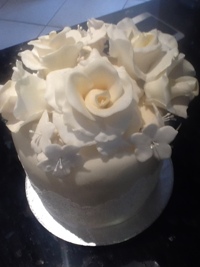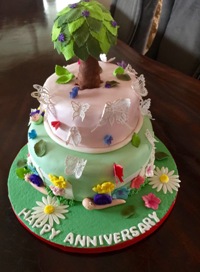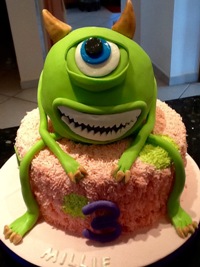 "I sincerely hope that Bakerella Cakes have added something extra to your celebrations"
---
The Business

Like all businesses Bakerella is evolving and in the coming year they are concentrating on the wedding cake business, in addition to business as usual for all their other celebrations.

They have some interesting features to offer, in addition to a delicious cake, such as hand painted cakes - these are lovely for an informal wedding, traditional cakes with beautiful lace textures and hand made flowers, plus the Ombré Rose style with piped roses in graduating Colour finished with a dash of sparkle. Give Doreen a call to discuss your ideas.

What of Naked Cakes and other trends in Wedding Cakes?

The "Naked Cake" trend is gathering momentum - as more brides opt for dessert style cakes, or even dessert tables, the idea of a cake , without icing, stacked high, filled with delicious creams, drizzled with home made syrups and adorned with selections of fresh or sugar flowers, fresh fruits and berries, and even fresh herbs has become very appealing. As these cakes tend to be quite rustic in appearance,they are often finished with ribbons and hessian whilst the theme of the cake is carried down onto the display table. Hessian or satin table cloths with satin roses,pinned with fresh herbs and flowers spring to mind - or baskets of fruit and berries placed at the foot of the display table - all add to the theme of the wedding and create a spectacular " WOW" factor. As an antidote to rustic, sequinned and metallic finishes are also coming to the fore, and lace as always continues to be a favourite of most brides.

Wedding Trends - Foliage is the low key, a but sophisticated theme. As all colours and types of foliage, from Woodland to Tropical, adorn this years bridal bouquets the theme is carried through to table dressings and of course,the cake. Simple drapes of Ivy threaded with pearls or statements of jungle foliage dotted with exotic Orchids and Hibiscus, can Odin anything from a single tier to a 7 tier cake.

Contact Bakerella to discuss how theycan make your event special.

Doreen has taken many cake design, decorating and baking courses both in the UK and the USA.

The philosophy of Bakerella is that the cake on the inside should taste as beautiful as it looks on the outside, hence Bakerella offers a delicious range of different cake flavours, which are complemented with a range of home made syrups and creams for fillings.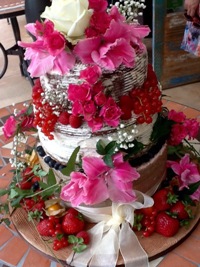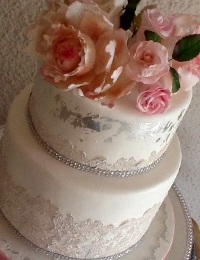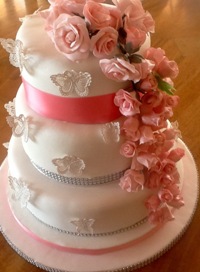 ---