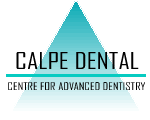 *FREE first consultation (mention Calpe Online 24)*
Calpe Dental is run by Dr Joel Weinberg, a highly experienced Dentist who ran his own dental practice in London for 15 years.

The Clinic

"Whatever your needs, whether you are 3 years old or 95, you will find our clinic a comfortable place to be."

Individualised treatment - at Calpe Dental, you are treated as an individual. Joel & his team understand that each patient's needs will be different and design a treatment plan to meet each patient's specific needs.


---

The team at Calpe Dental

Dr Joel Weinberg
Trained and qualified in South Africa, with 15 years experience in his own clinic in London. Joel specialises in pediatric dentistry, implantology and cosmetic treatments.

Lisa Lurpold
Dental Hygienist, trained and qualified in the US.

Jayne Haworth
Fully qualified Dental Nurse, who is a specialist in respiratory problems.

Maria Zuluaga
Fully qualified Dental Nurse who worked with Dr Weinberg in his clinic in London.

Andrea Wilmot
Receptionist
---
The Treatments / Services

Our Services include the following.

• Bonding

• Botox

• Check-ups

• Cleaning

• Cosmetic Dentistry

• Dentures

• Enamel Shaping

• Fillings

• Gum Contouring

• Implants

• Mouth Guard





• Removeable appliances





• Sealants



• Smile design

• Veneers

• Whitening

• X-Rays


---

The Facilities

"As well as state-of-the-art equipment, our clinic has all the extras which make for a relaxing experience."

Dental equipment
The clinic is equipped with the latest state-of-the-art dental equipment—including computerised imaging systems, digital X-rays and intra-oral cameras.

Cosmetic dentistry
Calpe Dental specialises in cosmetic dentistry. They offer a range of cosmetic treatments, from minor adjustments to total smile lifting procedures.

Those special extras
For those who are anxious about treatment Calpe Dental offer "happy gas" (sedation) which is extremely safe and a fantastic way to relax at the dentist's. They also have "air abrasion", which is a very new concept in dentistry: it is silent and painless—and most cavities can now be treated using this innovation.
You may watch a movie or documentary while undergoing treatment. DVD virtual reality glasses are also available.