SPA TSV Calpe-Benisa - Animal Rescue Organisation

The SPA TSV Calpe-Benisa is an Animal Rescue Organisation in Calpe that takes care of neglected, abused and abandoned animals, mostly dogs and cats. It has a No-Kill policy and provides a safe and caring environment until the animal is either reclaimed by its owner or placed in a new home.

---
The Charity


SPA TSV Calpe-Benisa, or Sociedad Protectora de Animales Calpe-Benisa, is a Society for the Protection of Animals (in German: Tierschutzverein Calpe-Benisa). They are a non-profit association which cares for abandoned and abused cats and dogs in Spain. Since 1982, the SPA rescues them from the animal pound in Calpe, so they won't be destroyed and bring them back to full health, this involves veterinary care, inoculation, castrations, operations and blood tests, etc. The SPA TSV Calpe-Benisa in fact have a contract with Calpe townhall to help rehome the dogs found in Calpe, and also pay for the castrations & some of the medical bills of the dogs in the Calpe municipal pound (or perrera). SPA TSV Calpe-Benisa is a registered Charity. Charity No. 5971 from 1st of March 1982.




All of the animals are given a health certificate, passport and microchip when homed in Spain, Switzerland & Germany.

SPA TSV Calpe-Benisa works together with mediation services

Sternenhunde

,

Katzen Engel

and

Tierschutzverein Europa

to place dogs and cats in good homes.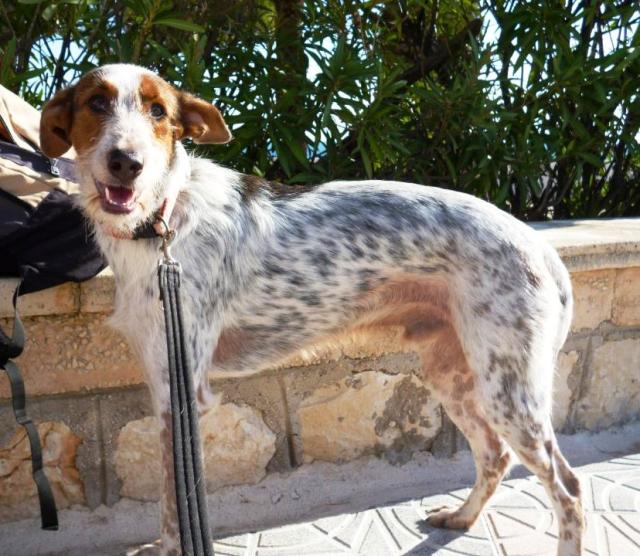 Amig

o
---
Animals in Spain
In Spain, as in many other southern countries not all dogs are "mans best friend", he is only a guard and hunting machine. A lot of these dogs (usually Galgos, Podencos, Pointer...) are killed when the hunting season is finished or they become "too old" at 4 years!! for hunting. A "good" hunting dog gets the "grace" of a quick death, a bad dog will be tormented: they are shot, hanged, abandoned, burned or flogged to death - or they are given to a 'perrera' where they are killed after 10 days in a cruel way.


Animals for adoption
There are currently

over

3

0 dogs in the care of SPA TSV Calpe-Benisa

, and about 20 dogs at the perrera of Calpe.

Most of the dogs are in foster homes. All of the animals that can be adopted - including the ones at the perrera - are on the SPA TSV Calpe-Benisa website. Also take a look at the

SPA TSV Calpe-Benisa Facebook page

for more information and recent additions (

incl.

lost/found dogs).

Adoption Fee


All of the animals are castrated and are given a health certificate, passport and microchip and they are then homed in Spain, Switzerland & Germany, etc. SPA TSV Calpe-Benisa charge between 180 and 250 euros for the animals which does not cover the cost of their rehabilitation in a lot of cases. All their work is voluntary and they rely totally on public donations!





Toby
---
What can you do?




Caring for the animals costs a lot of money; there are mouths to feed, veterinarian services to be paid, and these are only two of the most important items. SPA TSV Calpe-Benisa relies solely on donations and on volunteers who help them in any way they can.




There are numerous things you can do to help. Anything you can do, whether big or small, counts. For example, you can:

- be a foster home

- sponsor a dog

- walk, groom & play with the dogs

- adopt one of their dogs!

- help during fundraising events

- help with the stall on Calpe Saturday market

- organise a fundraising event

- take a dog to its new home abroad (via air or road)

- raise awareness

- help with administration, translations, marketing & communication

- look for new homes

- share on Facebook


- donate food, your old blankets, brushes, leads, etc.
- etc.


Any ideas are most welcome! Read more about what you can do on

their website

. In any case, SPA TSV Calpe-Benisa would be very happy to answer your questions. Give them a ring or write them an e-mail or message

via Facebook

. Should you wish to make a donation, please get in contact with them or make a donation to one of the bank accounts below.



---
Charity

Shop
You can find everything your heart desires at the

Charity

Shop located in the Perlamar building in the Calle Gabriel Miro:



- Fashion & accessories for women, men and children

- Leather goods

- Home textiles & accessories

- Household goods and tableware

- Toys, books, CD's, DVD's

- etc.



Opening hours on Monday - Friday: 10:00 - 13:00

If you have any good quality second hand goods, which you would like to donate, it is very much appreciated! Please contact Linda on 629 263 463 for any questions or drop by at the shop.



---

Contact Info, Hours & Details

Website: www.hundeschicksale.de
Facebook: TSV Calpe-Benissa
E-mail: spacalpe@yahoo.es

Telephone numbers


TSV Calpe-Benissa:

El

e

onore


+34 620 106 733




+34 965 830 817

Second Hand Shop:

L

inda Morrell Veasey




+34 629 263 463

Opening Hours
Please call for an appointment as most dogs are in foster homes. If you are interested in a dog of the perrera it is also best to contact TSV Calpe-Benissa as the pound is sometimes closed and they only speak Spanish.

Location of SPA TSV Calpe-Benisa

Les Basetes 2H
03710 Calpe

See the location map on this page (all the way at the bottom).

Bank Details
"Sociedad Protectora de Animales Calpe-Benisa"

Banco de Valencia, Calpe
IBAN: ES46 0093 0729 3800 0019 2959
BIC/SWIFT: VALEESVV

or

Banco Popular, Calle Santa Maria, Calpe
ES 75 0075 1023 31 06 0011 3817
BIC/SWIFT: POPUESMM


---
Calpe municipal pound - perrera
If you find a dog in Calpe call the

P

olicia

L

ocal on 965 839 000 who are supposed to call the to

wn hall

but they only work Monday to Friday 08.30 - 13.30 h

.

SPA TSV Calpe-Benisa are not allowed by law to take dogs off the street & have been accused of stealing. If you find a dog in Calpe & cannot get help from the police then call the SPA for advice.

People interested in any dogs in the Municipal Pound (perrera) can either contact Eleonore from the SPA if they do not speak Spanish or contact the pound direct who only speak Spanish. They are open Mon-Fri 8 until 1.30 but because the town hall has cut the staffing levels it is necessary to phone for an appointment because they now often have to lock the gate to go out to pick up a dog. Phone 965 839 294.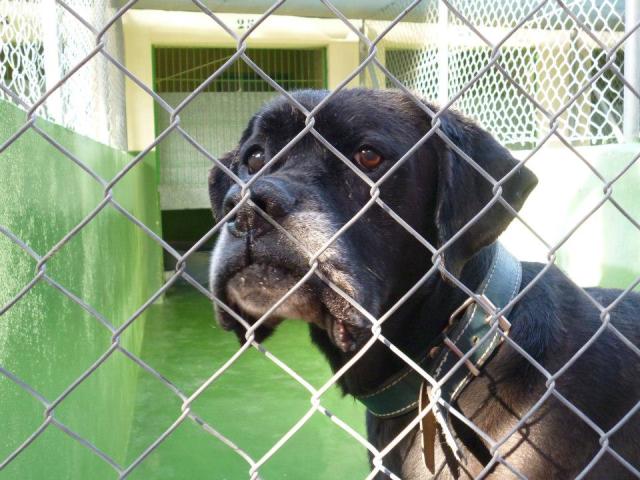 Lolo would like a home of his own.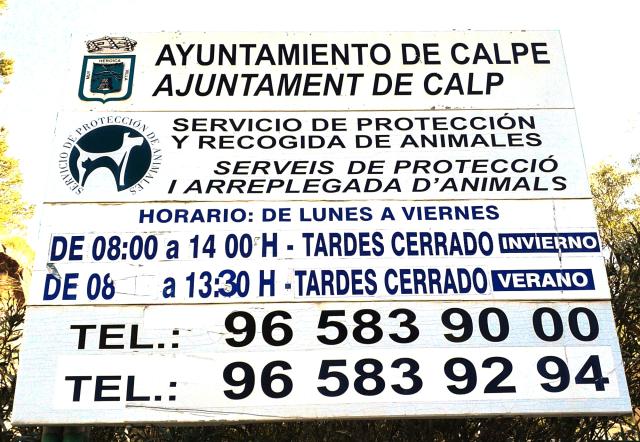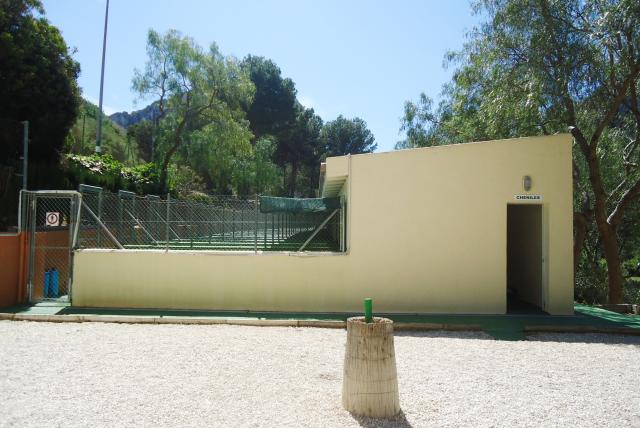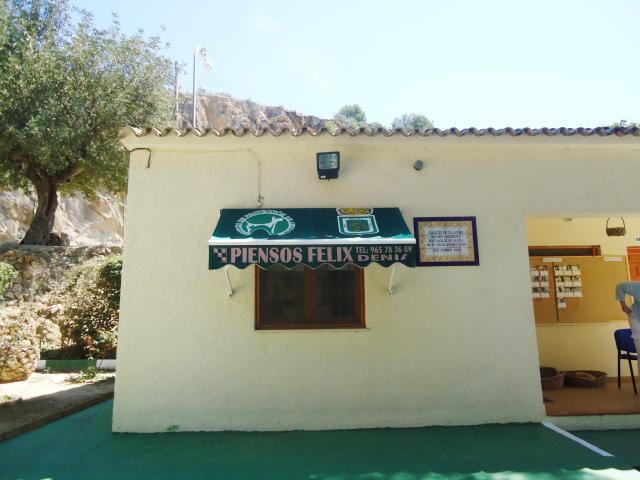 Location of the perrera: see the green arrow on this map.