The Products

Pergolas
We integrate our pergolas in any environment, whether rustic, modern or minimalist. They are compact and light at the same time, high durability, fast construction and minimal maintenance. Our pergolas with tropical thatched roofs provide a shade that promotes the welfare of those that welcomes, and provides a natural ventilation breeze that circulates without any obstacles.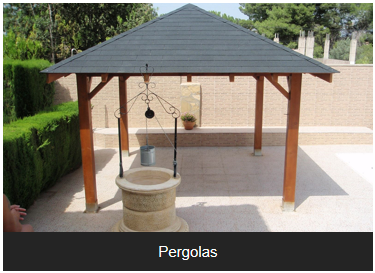 Tropical Gazebos
They are wooden structures covered with natural fiber, made to measure and adaptable to any space.
As important as building arbors is the determination of the orientation of the surface to be protected in the north and south facades where the sun is at its maximum altitude, the eaves mitigate the incidence of sunlight, while oriented east and west, vertical outgoing protects the low sun in the morning and evening.
The development of solar diagrams determine the size and orientation as our technicians will advise in order to obtain maximum efficiency in the construction of our gazebos.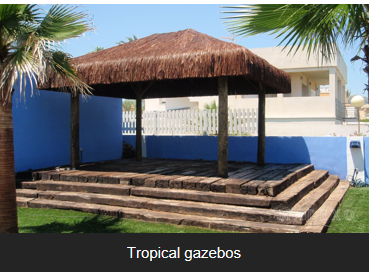 Porches
The porches are a covered space attached to housing, both integrated and independent, and can be enjoyed during all seasons with single glazing.
Enclosures allow for seasonal changes and continued use of the space created, isolation from the outside and allowing us to enjoy its warmth weather. Fast and much more economical than traditional construction work constitute a revaluation of your home.
The closings are intended to preserve the place where they are located in outdoor conditions.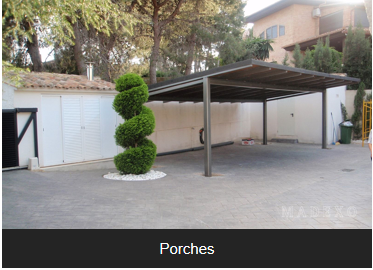 Parasols
The natural fiber parasols are perfectly integrated into the environment and are wind resistant, easy to install and are essential in terraces, hotels, beaches etc. All of them are composed of three elements, mast, metal frame and mantle, which can be heather, wicker or tropical fiber. The heather and wicker are subject to standard sizes of 2.00, 2.20, 2.40 and even 3 m in diameter. The tropical fiber is manufactured in any size.