The Clinica Veterinaria Las Salinas offers the following services:

• Internal Medicine.
• Preventative health plans (prevention of chronic illnesses for adult dogs & puppies).
• General surgery.
• Injury surgery.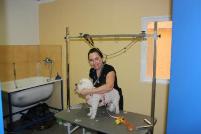 • Diagnosis by imaging, both x-ray and echograms in our surgery and C.A.T. can be arranged.
• We have our own laboratory, with immediate test results.
• Teeth cared for with ultrasonics.
• Consultations on behavior.
• Healthy pet foods.
• Special diets for your pets.
• Exotic pets.
• Grooming of pedigree pets.
• 24hour emergency call out.