Casa O' Hara Calpe | Designer Clothing Made to Measure, Dressmaking & Interior Design Calpe, Costa Blanca

Casa O' Hara is a Clothing, Dressmaking & Interior Design Business located in La Fustera, on the Calpe-Moraira Coast Road.

The business is run by Barbara, a fully experienced dressmaker, who offers all clients a high quality design service.

---
The Business

Casa O'Hara is a company that deals with fashion and interior design. With us, everythin is made to measure. We attach great importance to ensure that everything fits and looks beautiful.
With years of experience as a master craftsman workshop we managed to make our customers always happy.

Whether it's a jacket, a coat, a skirt or pants, everything must fit well and be appropriate to the character. Bring or send us your favorite piece of clothing and we copy or modify it as you like.
Curtains or cushions are sewn matching your specification in desired colors.

As our office is in Spain, we mostly use materials from Spanish factories, which are famous for best qualities. The decorative fabrics. which are mostly used for the interior design, you find again in our jacket and coat collections. This is something really special.

We work with selected fabric factories that produce the best design for our purposes. As we are working very creatively, our options are almost limitless. Unusual requests are welcome.
Just ask us!
---
Casa O'Hara ist ein Unternehmen, das sich mit Mode und Innenarchitektur beschäftigt. Bei uns ist alles nach Maß angefertigt. Wir legen großen Wert darauf, um sicherzustellen, dass alles passt und schön aussieht.

Mit unserer langjährigen Erfahrung als Meisterwerkstatt haben wir es geschafft unsere Kunden immer zufrieden zu stellen.

Ob es sich um eine Jacke, einen Mantel, einen Rock oder Hose handelt, alles muss gut passen und gut sitzen. Bringen oder schicken Sie uns Ihr Lieblingskleidungsstück und wir kopieren oder modifizieren es ganz nach Ihren Vorstellungen.

Ebenfalls nähen wir Vorhänge oder Kissen in den von Ihnen gewünschten Farben und Ausführungen.

Da unser Büro ist in Spanien ist, verwenden wir hauptsächlich Materialien aus spanischen Fabriken, die berühmt sind für die besten Qualitäten. Die Dekorationsstoffe, welche vor allem für die Innenarchitektur verwendet werden, finden Sie ebenfalls in unseren Kollektionen der Jacken und Mäntel. Das ist etwas ganz Besonderes.

Wir arbeiten mit ausgewählten Stofffabriken, die das beste Design für unsere Zwecke produzieren. Da wir sehr kreativ arbeiten, sind unsere Möglichkeiten fast grenzenlos. Ausgefallene Wünsche sind willkommen.

Fragen Sie uns einfach!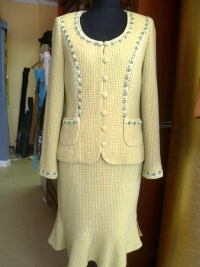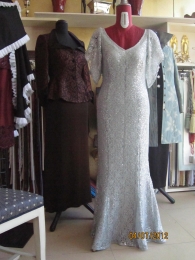 ---
Interior Design



Casa O'Hara offers a Quality Interior Design Service and works closely with their clients to achieve the best results.

Custom Made Curtains & Blinds are made to the highest standard within their workshop.

The full list of products & services available includes:

For the Home:
- Upholstery & Re-upholstery of furniture
- Fully Lined Curtains & Tie Backs
- Bed Heads
- Roller Blinds
- Venetian Blinds
- Austrian Blinds
- Fly Screens
- Lamps
- House Painting

For Boats & Caravans
- Upholstery of all beds, sofas & cushions

Customers are invited to visit Barbara at the shop to discuss their
requirements, and to see the superb range of samples available.
---
La empresa



Casa O'Hara es una empresa que se ocupa de la moda y el interiorismo. En nuestra empresa, todo está hecho a medida. Concedemos gran importancia a garantizar que todo encaja y se ve bien.

Con anos de experiencia como taller logramos hacer felices a nuestros clientes. Y sea un a chaqueta, un abrigo una falda o pantaloón, todo tiene que encajar bien y ser adaptado a la silueta.
Traiga o envíe su prenda favorita de ropa y lo copiamos exactamente o lo modificamos a su gusto.

Cortinas, cojines y tapicería se cosen acorde a sus ideas en los colores deseados. Dado que nuestro taller está en Espana, usamos en su mayor parte materiales de fábricas espanolas que son famosas por sus cualidades. Los materiales decorativos, que se utilizan principalmente para el interior, encontrará de nuevo en nuestras colecciones de chaquetas y abrigos. Esto es algo especial.

Trabajamos con seleccionados fábricas de tejidos que producen el mejor deseno para nuestros propósitos. Dad que estamos trabajando de forma muy creativa, nuestras posibilidades son casi ilimitadas.
Propuestas inusuales no convienen, pregúntenos.